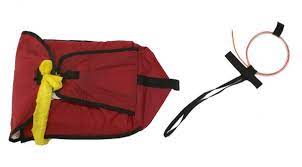 Gin Genie Race 4 Rescue Handle with Inner Container - Main
As supplied with your GIN Gliders Genie Race 4 harness. This is a replacement reserve deployment handle complete with an integrated deployment bag.
If the worst happens and you have to use your reserve in flight, you might lose your reserve deployment handle and reserve inner bag! Many pilots carry a spare deployment handle and inner bag when they are away on a flying trip, competitions or plan to deploy their reserve on an SIV course.
---
We Also Recommend